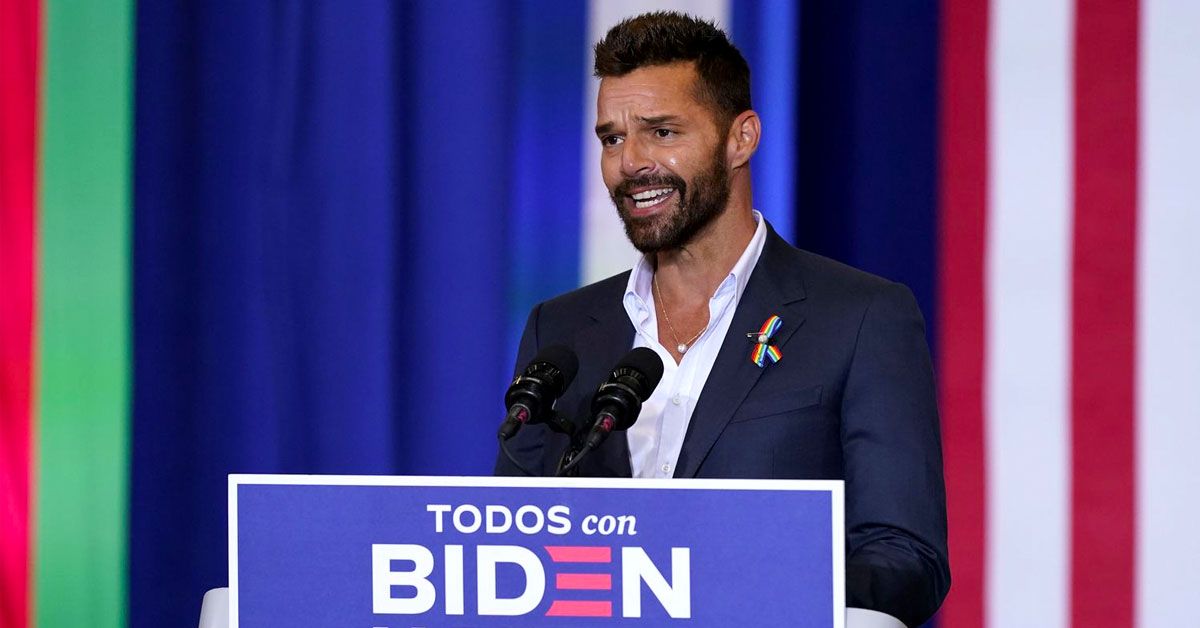 Enrique Martin Morales aka Ricky Martin aka "The King Of Latin Pop" is not only known by many names—he is also known for his many talents. As a singer, songwriter, actor, record producer and author, Martin may very well be, "living the vida loca."
But now, Martin is getting involved in a whole new arena, which could very well show just how much cultural influences the pop artist truly has.
On Wednesday, September 16, the singer "liked" a post from The Hill, which featured a two and a half minute video explaining why Donald Trump is not the ideal choice for the next President of the United States. Perhaps the most shocking part of the video is that the speaker is none other than Martin himself.
According to the singer, the reason for his endorsement of Joe Biden can be tied back to his admiration for the way that the former Vice President has conducted himself in moral terms. "Joe Biden is a man of character," Martin said to the audience.
For Martin, that morality is deeply tied to his Puerto Rican identity and the ways in which he believes that Joe Biden would respect his culture. "Joe Biden is a president who is ready to protect all Puerto Ricans. It doesn't matter if you live in Pennsylvania. It doesn't matter if you live in Florida. It doesn't matter if you live on this island. He is ready to work for us," Martin said.
Any fans doubting Martin's commitment to Puerto Rican cultural roots need only take a look at the podium. Beneath the point where the singer is standing hangs a plaque in Spanish: Todos Con Biden, "Everyone With Biden."
The speech comes just as Martin posted to his Instagram account an official endorsement of Joe Biden, written in Spanish.
Related: This Is What Joe Biden Has To Say About Whoopi Goldberg 
Martin's Puerto Rican background is not the only part of his identity that he mentions in his speech. The singer also talks about being gay and how that part of his person has informed his decision to vote for Biden.
Wearing a tiny rainbow flag on his suit, Martin said of Joe Biden, "He believes his family and mine are more similar than different. He believes everyone has a place in this country,  no matter where you were born, what you look like, or who you love."